April 17, 2023
From the CHRR Director's Desk Issue #12
Image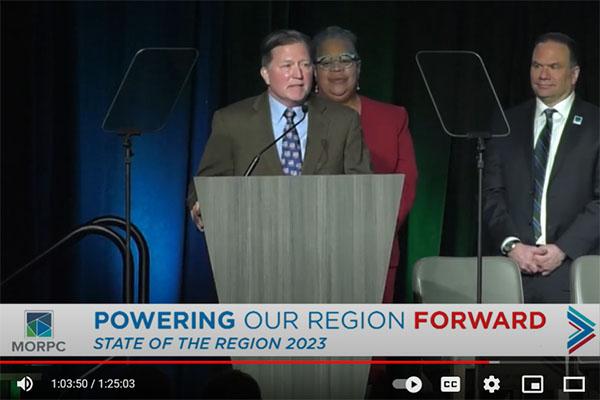 Description
By Stephen M. Gavazzi, Ph.D.
The Latest News, Views, and Announcements
What's New at CHRR
This is the last month I can refer to myself as the "new" director of CHRR. The honeymoon will be over, and yet my appreciation for everything that we do as a center continues to grow in leaps and bounds. If there is one victory that I wish to claim at the end of my first 365 days at the helm, it would be embedded in my belief that CHRR is no longer Ohio State's "best kept secret." Hopefully, the items covered in past, present, and future newsletters provide readers with ample proof of this conviction.
CHRR's Leadership Team
CHRR's Strategic Doing Team met for the second time with Jeff Agnoli, Senior Liaison in The Ohio State University Office of Corporate Partnerships, who has been serving as our strategic planning consultant. In this latest meeting, Jeff led us through a series of exercises that helped to flesh out the four strategic opportunities we have identified to date:
Building secure data spaces
Providing access to Survey Suite
Creating communities of practice
Developing a Maker Space
Beyond these intentional prospects for growth and innovation, an emerging component of this important work revolves around what might best be termed "values clarification." In essence, the Strategic Doing Team has started to grapple with the fundamental question: What principles are driving the decisions we make about the work we do? I myself have offered up one component of this value system, which draws a comparison to the old BASF commercial by claiming that "we don't make a lot of the research you do, we make a lot of the research you do better." Our Strategic Doing Team will be talking with many of you in the weeks and months ahead about the ideas you have about the standards and principles that should be driving CHRR's work over the next one to five years.
Things You Might Want to Know
Presentation at MORPC's 2023 State of the Region Conference
As many of you know, CHRR recently fielded a transportation survey in partnership with the Mid-Ohio Regional Planning Commission (MORPC) and the Columbus Dispatch. I was invited to help roll out the preliminary results as part of the "Powering Our Region Forward" presentation at MORPC's 2023 State of the Region Conference on March 31st. I was joined on stage at the Columbus Hilton Hotel Ballroom by MORPC Board Chair Erik Janas and Columbus Dispatch Editor-in-Chief Edwina Blackwell Clark to discuss some of the [transportation survey] findings, including perhaps most notably the fact that approximately 90% of survey respondents supported government investment in passenger rail. Borrowing from a subsequent Columbus Dispatch editorial opinion noted, "A survey that reinforces the desire for concrete actions that will move us forward" sits at the heart of what CHRR can be doing in our growing community engagement efforts. Exploratory conversations already are underway to field new surveys in partnership with MORPC on other issues of importance to Central Ohio citizens, including affordable housing and sustainability concerns.
---