March 20, 2023
From the CHRR Director's Desk Issue #11
Image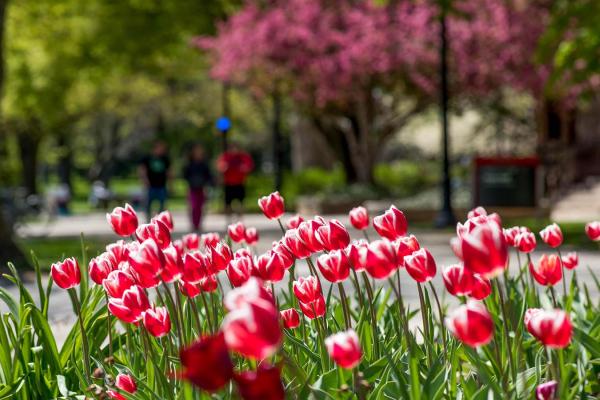 Description
By Stephen M. Gavazzi, Ph.D.
The Latest News, Views, and Announcements
What's New at CHRR
We are pleased to welcome Jessamine Stassen, our newest CHRR Team Member, who recently joined us as a Research Associate. Jessamine graduated in December of 2020 with a Bachelor of Arts degree in Psychology from The Ohio State University, which gave her experience in data analysis and research methods. Jessamine notes that this is not her first time working with CHRR. In 2012, when she was 16 years old, she was one of several high school students hired to enter data from paper versions of the National Longitudinal Studies (NLS) questionnaires. Subsequently, she then stayed on as a Student Assistant working with NLS data. "I am grateful to once again have the opportunity to work for CHRR and OSU," Jessamine noted. And we are grateful to have Jessamine back at work with us, focusing primarily on those NLS projects she had worked on over a decade ago.
CHRR's Leadership Team
CHRR's Strategic Doing Team met in late February in service to conducting our first "30/30 meeting," designed as a check-in to talk about what has been learned over the course of the last 30 days (as well as to plot a course for the next 30 days). What follows here is a brief rundown of activities related to each of the four strategic opportunities we have identified through our Strategic Doing process.
Strategic Opportunity: Building secure data spaces/enclaves/links for internal and external partners
Presently, we are in discussions with various stakeholders about their needs as related to new NIH policies regarding data storage and security. Many of the potential clients are noting a big uptick in demands for greater security, especially at the NIST SP 800-53 Revision 5 level that the CHRR currently maintains. In tandem, Nick Ramser is in discussions with IT Team members about service delivery related to the provision of these secure data spaces for both internal and external partners.
Strategic Opportunity: Providing access to Survey Suite
Lucy Herrera, Jen Hoffman, and Justin Smith have been leading the charge in providing demonstrations of our Survey Suite Software (S3) to various internal and external groups over the past month. In collaboration with the IT Team, much information is being gathered about the strengths and challenges of using S3 in comparison to Qualtrics, REDCap, and other similar survey software programs.
Strategic Opportunity: Creating a community of practice
Josh Hawley recently circulated a proposal–in partnership with the Translational Data Analytics Institute (TDAI)–to create a Working Group on Administrative Data. This Working Group was pitched as a forum to increase awareness of and use of administrative records from all domains by the research community at Ohio State University. As a result, an enthusiastic first gathering of interested parties occurred on March 2nd in the TDAI Work Space, resulting in agreement to continue the conversations in meetings to be held in the months ahead.
Strategic Opportunity: Developing a Maker Space/satellite research commons
Rosella Gardecki provided leadership in bringing together a group of CHRR Team members in an initial discussion of what a Maker Space (or satellite research commons) offered by CHRR might look like. The group decided to create a skills-based survey for CHRR team members, an activity that Canada Keck volunteered to help lead. The identification of our internal skill sets through this sort of survey would allow CHRR to better promote our services to internal and external clients. In turn, a targeted survey of university researchers was recognized as a necessary next step in terms of understanding where best to initiate marketing efforts.
Things You Might Want to Know
Presentation at MORPC's Data Day Conference
I was invited to present information on the American Population Panel (APP) at the first-ever "Data Day: Driving the Region Forward with Data" conference hosted by the Mid-Ohio Regional Planning Commission (MORPC). My talk, entitled "The American Population Panel (APP) at the 5-Year Mark: The CHRR's Exceptional Tool for Survey Scientists," was delivered on March 1st to an appreciative audience gathered at the Ohio University Dublin Integrated Education Center. This presentation was well-timed in that our Special Projects Team was in the midst of fielding a transportation survey in partnership with MORPC and the Columbus Dispatch, allowing me to provide a real-time glimpse of how the APP can be used to gather and analyze public perceptions on issues impacting local citizens. MORPC plans to present the results of this survey during their State of the Region conference to be held on March 31st at the Hilton Columbus.
---